Redback UBBK Mens Work Easy Escape Station Boots Black Non Steel Toe UK Size
Compare
Boots4All – Official eBay Store
CONTACT US
EASY EXCHANGES
GENUINE PRODUCTS
FREE PICK UP

Every Business Day
NATIONWIDE DELIVERY

Every Business Day
WORLDWIDE EXPRESS SHIPPING

Every Business Day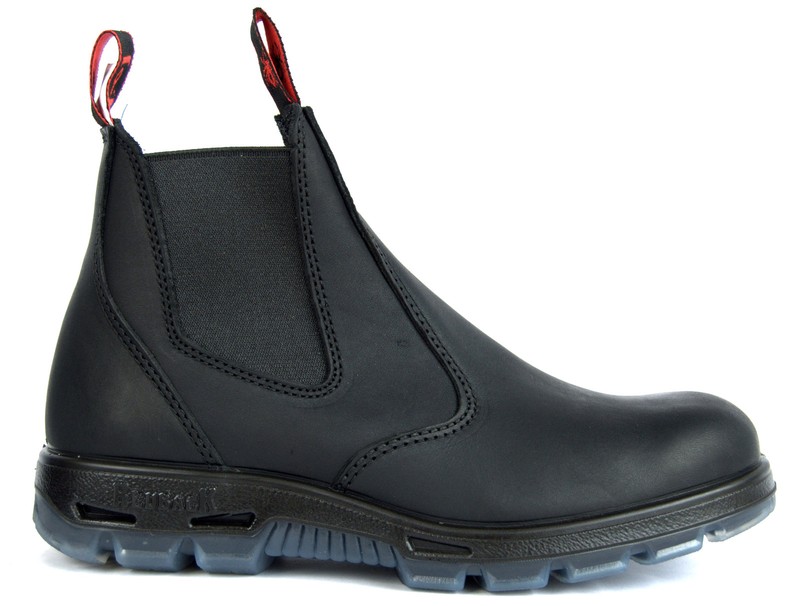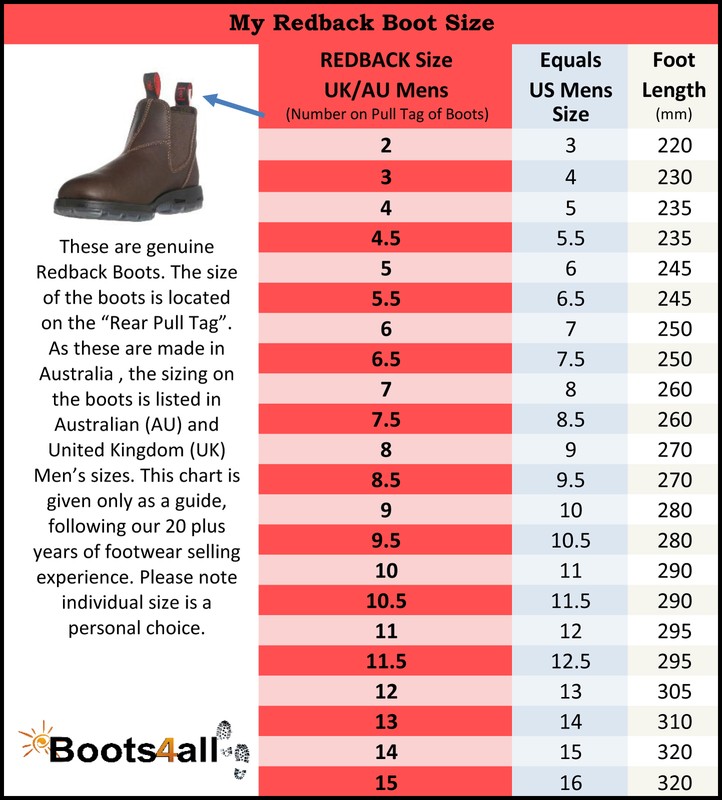 Redback UBBK Mens Work Easy Escape Station Boots Black Non Steel Toe UK Size

$119.95

true
No. 1 Best Seller…100% authentic Redback boots
Classic styling, premium thick leathers, lightweight comfort.
You can't go wrong with our Aussie made Redback boots with durable
slip resistant soles that are designed to last for years!
Item Description
Non Steel toe, black pull on boots
Premium oil kip leather uppers
Durable TPU Outsole, heat resistant to 130 degrees Celsius
Oil & Acid Resistant TPU Technology
Lightweight Air Cushion Midsole For Comfort And Support
3 Layer Reinforced Heel To Prevent Tired Feet & Back Ache
100% Australian Made
Australian Delivery
International Shipping
Returns & Exchange
Sizing
Australian Delivery
Free Express Postage on all Best Sellers Australia Wide.
Orders will be sent via Australia Post.
When can I expect delivery?
Express Post is 1-3 business days from dispatch.
Standard Post 2-6 business days from dispatch.
How do I track my order?
All tracking numbers are uploaded to ebay every day
from 3pm.
Please visit Australia Post website for tracking information.
Can I pick up my order?
Yes, we have 2 pick up options for you…
1.Please send us a message to arrange your order pick up from
our Brooklyn Distribution Centre.
2. Select 'click and collect' to pick up from Woolworths or Big W.
International Shipping
Orders are sent via Express Courier with tracking to ensure fast delivery!
We are the preferred partner with UPS Express;
however depending on the destination, orders
may be sent via UPS Express, FedEx or Express Courier.
When can I expect delivery?
3-5 business days from dispatch.
Is delivery available to POB/APO's?
Yes, we are happy to send to POB/APO's.
Please note we require a street number and
street name for orders sent to Israel.
How do I track my order?
All tracking numbers are uploaded to ebay.
Please visit the shipping carrier's website
for tracking information.
Please note a signature is required upon delivery.
Is my order sent in the original box?
Due to additional shipping costs, boots are not
sent in the original boxes and are recycled.
Will I have to pay taxes and duties?
No import duties and taxes for our US buyers.
We endeavor to reduce the occurrence of
import duties and taxes; which may be imposed by your local Customs.
If applicable, these additional shipping charges are not included in
the item price and are the buyer's responsibility.
Please contact your Custom's Office for further information.
Returns/Exchanges
Happy to help regarding the best boot style and size for you.
I need to exchange my boot size/style…
We are happy to organize an exchange/return for you.
Please contact us within 30 days from your order delivery date.
Please do us the courtesy of ensuring your item is 'as new' condition
and has not been worn/used.
Australian Returns
Once you have been issued a Returns Authority Number you will need
to return the item to us at your cost and a re-delivery charge will apply
for the new item to be sent to you with tracking.
International Returns
Happy to help you! As a seller online for nearly 20 years we
have simple return options to ensure you receive the boot size and style
your need quickly.
Please contact us for assistance.
I have changed my mind and no longer require my purchase.
We understand that you may no longer require the item you purchased.
Upon receiving your Returns Authorization Number, please ensure your item is in 'as new condition' and returned to us at your cost, within 30 days from the delivery date.
We are happy to refund your purchase less the original delivery charge and a 15% restocking fee.
Warranty
We are happy to liaise with the manufacturer/supplier on your behalf.
We will need a few details from you such as the order name and
PayPal transaction id.
Please send us an image of your concerns we can assist you.
If the item is deemed faulty by them a replacement or refund will be issued
at our discretion.
Please note that a manufacturing warranty for footwear does not include misuse or
natural wear and tear.
Postal Address:
Boots4All – Returns and Exchanges Department
RA#
Unit 5, 46-50 Buchanan Road
Brooklyn VICTORIA
Australia 3012
Australian Customers Phone (03) 9318 9565 International Customers Phone +61 3 9318 9565
Business Hours Monday-Friday 9.00am-5.00pm (Australian Eastern or Summer Standard Time)
We are passionate about boots…it's been our business for 20 years!
Whats my size?
Did you know that 1/2 sizes generally refer only to the width, not the length?
The best way to determine your size is to measure your foot.
All you need to do is stand on a piece of paper (with socks on)
and your heels against the wall.
Mark the tip of your big toe on the paper and measure the length between
the heel and toe.
Once we have your foot measurement, we will be happy to assist you with sizing.
FREE PICK UP

Every Business Day
NATIONWIDE DELIVERY

Every Business Day
WORLDWIDE EXPRESS SHIPPING

Every Business Day
FREE PICK UP

Every Business Day
NATIONWIDE DELIVERY

Every Business Day
WORLDWIDE EXPRESS SHIPPING

Every Business Day
Not exactly
what you want?
© 2017 Boots4All, All rights reserved.
| | |
| --- | --- |
| Country/Region of Manufacture | Australia |
| Style | Work & Safety |
| Material | Leather |
| Color | Black |
| Brand | Redback |